Feedback
Whether you are a first time visitor to the TOPkit site or a long-time participant in the TOPkit Community of Practice, your feedback will ensure that TOPkit is as relevant as possible to the online faculty development community. Please provide your anonymous reactions to/feedback on TOPkit.
Background
Together with a board of advisors from across the state of Florida and Florida Virtual Campus, your colleagues at the University of Central Florida's Center for Distributed Learning have designed and developed a statewide faculty development program in support of the State University System of Florida Board of Governors 2025 Strategic Plan for Online Education. This program consists of three components: an online toolkit, community of practice, and annual workshop.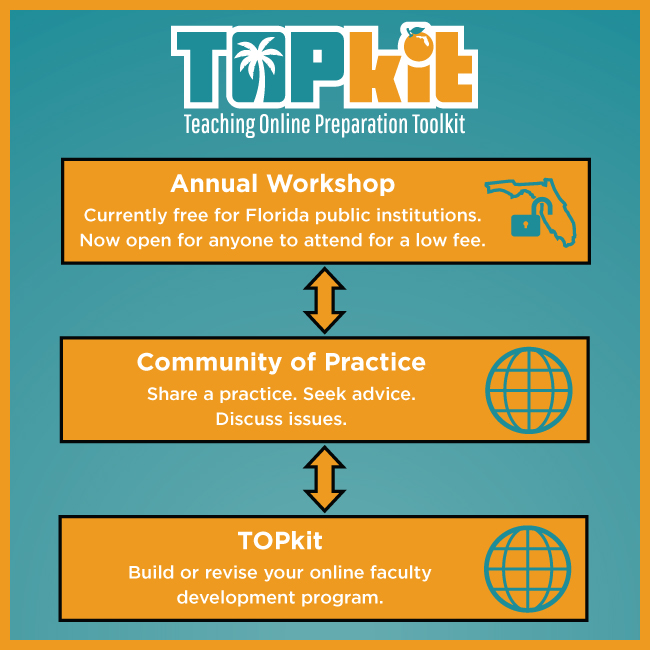 The Florida Online Faculty Development Workshop

is an annual two-day train-the-trainer experience delivered and hosted by UCF for faculty development professionals. It is currently reserved for Florida public institutions and will prepare these education professionals to return to their campuses and effectively implement the best practices, resources, and tools contained within TOPkit.

The TOPkit Community of Practice is a global online forum for ongoing collaboration and sharing of faculty development resources and effective practices. It is also an ongoing forum for advancing the scholarship of teaching and learning in the online environment.
The Teaching Online Preparation Toolkit (TOPkit) website is a comprehensive resource that provides the postsecondary community with the essential elements required to ensure a very high quality online faculty development program, including a sample course that may be imported into any learning management system and then customized. The menus above walk you through a three-step process for planning, developing, and evaluating your program along with supporting resources.
While this initiative is Florida funded and Florida focused, it is not Florida exclusive and we invite you, our colleagues around the world, to explore the TOPkit website and actively participate in its accompanying community of practice.
Research, Impact, & Evidence of TOPkit Implementation
TOPkit is dedicated to reflecting on the effectiveness of our initiative and mission. This section hosts resources demonstrating TOPkit's impact within our community of practice.
Major, A. E., deNoyelles, A., Miller, R. (2022). Chronicling types of support and its evolution for quality digital learning in FL. TOPkit. Research report issued to the TOPkit Advisory Board on July 18.
University of Central Florida Contributors
Principal Investigators
Thomas Cavanagh, Ph.D.
Wendy Howard, Ed.D.
TOPkit Workshop Coordinators
Lead: Charlotte Jones-Roberts, M.A.
Sue Bauer, M.A.
Joe Lloyd, M.Ed.
Tina Calandrino, M.Ed.
Suzy Jardeneh, M.A.
Rebecca McNulty, Ph.D.
Bren Bedford
TOPkit Outreach Coordinators
Charlotte Jones-Roberts, M.A.
TOPkit Digest Editor
Bren Bedford
Flo Williams, Ph.D.
Web Development & Graphics
Jacob Bates
Bren Bedford
Jon Pizzo
CDL Graphics Team
Content Page Authors
TOPkit content authors are indicated by way of the by-line on each content page.
Additional content provided by:
Advisory Board
Ambassadors
Franzetta Fitz
Florida Agricultural and Mechanical University
Julie Goldendiv
Florida Atlantic University
Chris (CJ) Jordanek
Florida Gulf Coast University
Jessica Rodriguez
Florida International University
Dahl Grayckowski
Florida Polytechnic
Liying Miao
Florida State University
Jennifer Smith
University of Florida
Kevin Hulen
University of North Florida
Dennis Walpole
University of South Florida
Vikki Milton
Chipola College
Cheryl Kohen
Daytona State College
Mary Roslonowski
Eastern Florida State College
Mike Davis
Florida Gateway College
Katherine Eads
Florida Keys Community College
Jana Kooi
Florida State College at Jacksonville
Rebeca Yost; Roz Jester
Florida SouthWestern State College
Brenda Watkins
Hillsborough Community College
Steve Ramos
Indian River State College
Benedetto Mogiovi
Lake-Sumter State College
Gary Baker
State College of Florida, Manatee-Sarasota
Amy Crowley Gonsoulin
Miami Dade College
Frances "Cissy" Adleburg
North Florida Community College
Syed Hasnain
Northwest Florida State College
Eva Cruz
Palm Beach State College
Jennifer Veloff
Pasco-Hernando State College
Bill Waters
Pensacola State College
Cody Moyer
Polk State College
Jack Hall
St. Johns River State College
Michelle Piper
St. Petersburg College
Debbie Blair
Santa Fe College
April L. Jollie
Seminole State College of Florida
Melanie Jackson
South Florida State College
Lemond Hall
Tallahassee Community College
Geni Wright; Rose Tran; Lauren Kelley
Valencia College
Claudia Ruiz
Saint Leo University
Tina Knebel
Palm Beach Atlantic University
Bryan Biggers
Palm Beach Atlantic University
Kay Rogers
Barry University
Amy Sugar
Rollins University
Feng Sun; Kevin Celebi
Eckerd College
Collette Hines
Florida Memorial University
Dee Thornton
Jacksonville University
Dawn Dubriel
Lynn University
Benjamin Brown
Stetson University
Cheri Etling-Paulsen; Susan Lambert
The University of Tampa
Angie Su; Marti Snyder
Nova Southeastern University
Lori Driscoll
Gulf Coast State College
Angie Fairweather
New College Florida
Cindy Mersereau
University of West Florida
Michelle Horton
University of West Florida
Contact Us
Please contact us via email at TOPkit@ucf.edu.