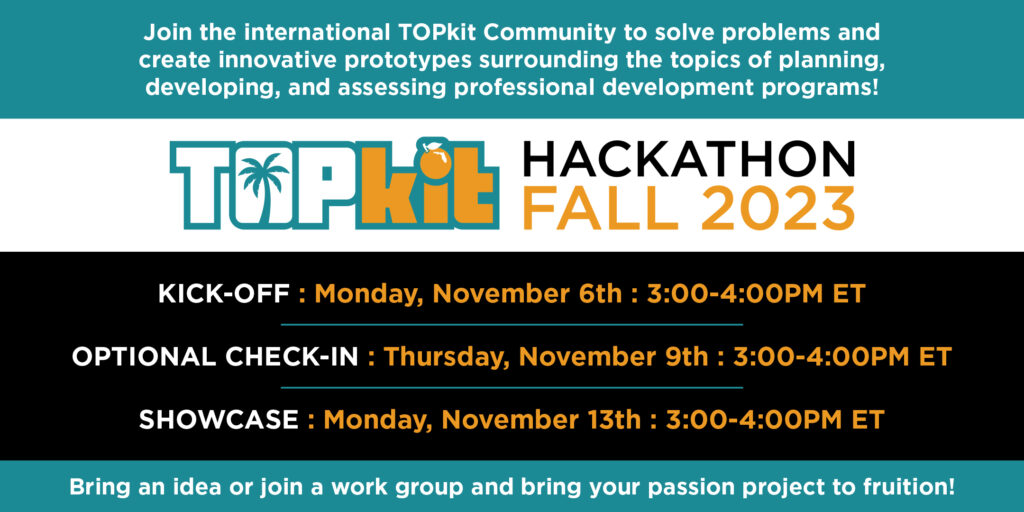 Overview
Join members of the TOPkit community and beyond to work together to create open hacks/solutions for their biggest challenges. A hack week encourages collaboration to create content in bite-size chunks, and attendees will create openly-licensed educational resources (OERs) to share with the entire TOPkit community and the world.
Do you have an idea that you'd like to kickstart? Do you need some time, space to start a new plan/development/evaluation?
The TOPkit Hackathon will offer a fun-filled, productive, collaborative space for you to create a faculty development related artifact. Participate in teams or individually to enjoy the collaboration. Colleagues plan, build, and briefly showcase their resulting efforts.
KICK-OFF (Monday, November 6, 3:00 – 4:00 p.m. ET) Plan your effort with colleagues.
DROP-IN (Thursday, November 9, 3:00- 4:00 p.m ET) Build your artifact individually or collaboratively, asynchronously or live.
SHOWCASE (Monday, November 13, 3:00 – 4:00 p.m. ET) Briefly present your artifact and gather ideas from colleagues' artifact presentations.
You create any artifact that you'd like. Artifacts that may result from your participation could include any one of these examples:
Proposal to present at the TOPkit Workshop,
Workshop for your faculty about advanced online course design,
Curriculum for a series of workshops,
Peer-check course facilitation review process,
Plans for facilitating a learning technologies book conversation with faculty,
TOPkit content page,
Survey or focus group protocol for your workshop or faculty,
Analysis of survey results,
Or more!
Point of contact: Please contact TOPkit@ucf.edu for questions or more information.
Previous TOPkit Hackathon Session Recording
Previous TOPkit Hackathon Showcase Session Recording
Summary of Event
Overall, collaborations took front and center at TOPkit Hackathon Fall 2021. Creative energy flourished through the Kick-Off session to the Showcase presentations. The event culminated with groups briefly presenting their efforts and artifacts. Featured projects from Hackathon efforts included:
Highlights of Previous Hackathon:
Course planning for advanced online pedagogy by Dana Kemery from Drexel University and Florence Williams from the University of Central Florida
Best practices for meeting the Department of Education's regular and substantive interaction definitions by Josh Strigle from College of Central Florida, Jann Sutton from the University of North Florida, and Jennifer Veloff from Pasco-Hernando State College
Methods for giving interactive feedback to students on their video assignments using Edpuzzle by Sasi Phongploenpis from Penn State's College of Education and Charlene Hu from University of Central Florida
Outline structured for future Pressbooks publication Accessibility Tips for Starting Small about Universal Design for Learning and Invitational Design by Karen Tinsley-Kim and Suzy Jardaneh from the University of Central Florida