by Rohan Jowallah, Linda Futch,
"At the 'hub' of the model is the faculty."
The Jowallah et al. (2016) Quality Transformation Model for Faculty Development brings together the key elements needed for faculty development.  The model gives consideration to Dittmar and McCracken, 2012; Golden and Brown, 2016; Behar-Horenstein, 2016; Niehaus and Williams, 2016; and Adams, 2014 perspectives on faculty development. The core of the Quality Transformation Model is to give full consideration to the transformation of faculty to teach effectively online within a framework of collaboration, support, reflection, research and evaluation.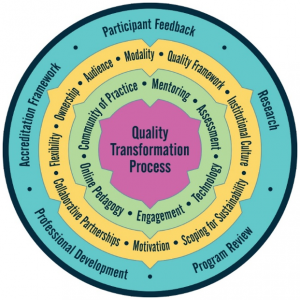 Jowallah, Futch, Barrett-Greenly and Bennett (2016)
C1 = Quality transformation process
C2 = Core for enabling transformation
C3 = Supporting agents for ongoing transformation
C4 = Evaluation and feedback for transformation
At the 'hub' of the model is the faculty (C1). For faculty to contribute to the design and development of quality courses, there needs to be a behavior change. This behavior change should ultimately lead to the enhancement of online course quality.  C2 represents core elements needed for the transformation of faculty, which include sound knowledge of online pedagogy; active engagement in all activities in the staff training program; knowledge of the affordances of new and emerging technology; an awareness of well designed assessment; active engagement in an online community of practice; and mentorship and support to gain the necessary experience and knowledge needed for effective online teaching. C3 represents elements that are needed to enhance faculty's experiences and support faculty through the transformation process. These factors include:
Collaborative partnerships aimed at online quality improvements;
Motivation of faculty to engage in continued professional development;
Scoping for sustainability of continued professional development;
Understanding of the institutional culture;
Creating a flexible course modality to accommodate faculty;
Addressing the needs of the audience, including making any necessary accommodations needed during the training;
Considering who will take ownership of the development course;
Providing ongoing support for faculty training, and establishing a framework for flexibility to ensure that faculty extend their academic freedom into the design of quality work (Jowallah et al 2016).
The final component of the circle is C4, which gives attention to the need for evaluation and feedback and is necessary for the continuous improvement in the faculty development model. For continuous improvement it will necessary for faculty to:
Understand the requirements of the external accreditation body;
Give their feedback on all development programs;
Engage in collaborative research partnerships to research key topics in relation to online teaching and learning.
The Jowallah et al. (2016) model highlights the need for transformation via reflection within faculty development and allows for some level of flexibility. For example, an institution could begin their online faculty development by focusing on C1 and C2. Once C2 is aligned with C1, this will set the stage for the C3. The final component of the circle is C4, which gives attention to evaluation and feedback for continuous improvement in the faculty development model. It is imperative to have the complete model in mind as you begin the development process.  A key point in using this model will be the use of the 'Decision Guide' interactive tool developed by (Futch, Barrett-Greenly and Jowallah). This tool is further highlighted on this site.
References
Adams, S. R., & Mix, E. K. (2014). Taking the Lead in Faculty Development: Teacher Educators Changing the Culture of University Faculty Development through Collaboration. AILACTE Journal, 11(1), 37-56.
Behar-Horenstein, L. S., Garvan, C. W., Catalanotto, F. A., Yu, S., & Xiaoying, F. (2016). Assessing Faculty Development Needs among Florida's Allied Dental Faculty. Journal Of Dental Hygiene, 90(1), 52-59 8p.
Dittmar, E., & McCracken, H. (2012). Promoting Continuous Quality Improvement in Online Teaching: The META Model. Journal Of Asynchronous Learning Networks, 16(2), 163-175.
Futch L., Barrett-Greenly, T., and Jowallah, R. 2016 (November 16-18th).
Interactive Faculty Development Decision Guide (IFDDG): A Tool to Support the Design and
Implementation of an Effective Training Program for Online Instructors.  Florida Distance
Learning Association Conference. Florida Annual Online. Florida, Altamonte Springs
Golden, J. & Brown, V. (Accepted for Publication 2016). A holistic professional development model: A case study to support faculty transition to online teaching. In D. Polly & C. L. Martin (Eds.), Encyclopedia of Teacher Education and Professional Development. IGI Global: Hershey, PA.
Jowallah, R., Futch L., Barrett-Greenly, T., and Bennett, L. 2016 (November 16-18th).  Quality
Transformation Model for Faculty Development: a new theoretical and piratical model for
developing online faculty. Annual Online Learning Consortium International Conference.
Florida, Orlando
Niehaus, E., & Williams, L. (2016). Faculty Transformation in Curriculum Transformation: The Role of Faculty Development in Campus Internationalization. Innovative Higher Education, 41(1), 59-74.