Author: Dr. Jann Sutton, University of North Florida
Editor: Dr. Denise Lowe, University of Central Florida
Dear ADDIE,
I am concerned! My colleagues are talking about the educational impact of Artificial Intelligence (AI) tools like ChatGPT. I see news articles pop up and am wondering how AI will influence the instructor and instructional designer roles. Some of my faculty are really freaking out! I really don't know where to start.
Help! AI is melting my brain!
Signed,
OA-Organic Acumen
Dear OA,
The speed of technological change is enough to melt anyone's brain, I feel for you! However, like any new technological application, we need to approach it methodically and thoughtfully.
Take a deep breath dear reader, as artificial intelligence in the educational setting has been around for decades. It is embedded in adaptive learning, analytics, grading systems, plagiarism checkers, and in our chat messaging systems. AI is typically considered a computer system that has been developed (trained) over time to aid our cognitive capacity. AI can be a valid time-management aid!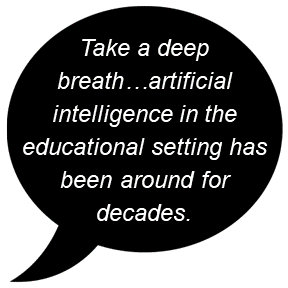 Recently, some of the more popular AI tools like ChatGPT (text generator), Dall-E2 (graphics generator), Pictory (video/narrator generator, editor), Grammarly (writing assistant), and Otter.ai (audio/video transcription) have become hot topics for our community. Educators are concerned about how AI will be used to derail students' learning and influence their ability to write and create. Of course, this is a real concern, but let's consider whether we can approach the proliferation of AI options as a teaching moment.
Let's explore how AI, specifically ChatGPT, can be harnessed as a teaching and learning tool. Review the following suggestions which provide entry points to investigate text generators.
Experiment with ChatGPT, make an account, input (ask) questions, and define your parameters. Start by asking simple questions and evaluate the responses – are they accurate, incomplete, or completely inaccurate? During one session, continue to input more complex scenarios and questions. See how some instructors are using ChatGPT to create discussion prompts and lesson plans!

Create assignments utilizing ChatGPT. For example, in a multi-part assignment/project, students can use the tool to draft a short paper, solve an equation/problem, or write a discussion post about a course-related topic of interest. Part of the assignment should be to compare the tool's responses to their course texts. Consider asking them to keep a reflective journal of their experience and their AI prompts. In a follow-up discussion, students can collectively discuss their experiences using an AI tool: Is it ethical to use, did it help them gain a broader understanding of the topic, and was it accurate? Of course, the instructor needs to be THE guiding voice through this process and carefully review the outputs to help students discern the AI results.

Harness strategies to develop authentic assessments which will make it difficult for a text generator to respond if you or your instructors are not ready to embed the tool in pedagogical activities. Focus on recent local events specific to your course topic which require critical thinking and analysis that cannot be easily replicated by a text generator.

Reflect on your current AI policy and help instructors draft a statement for their syllabi and/or assignment instructions. Can students use it when preparing an outline, but not a final draft? Define your expectations and make them explicit.
Further exploration might include "talking" directly to ChatGPT, asking it how you can incorporate AI into your specific course, and experimenting with how to evaluate its use. Get to know the AI tools, their strengths, and their limitations.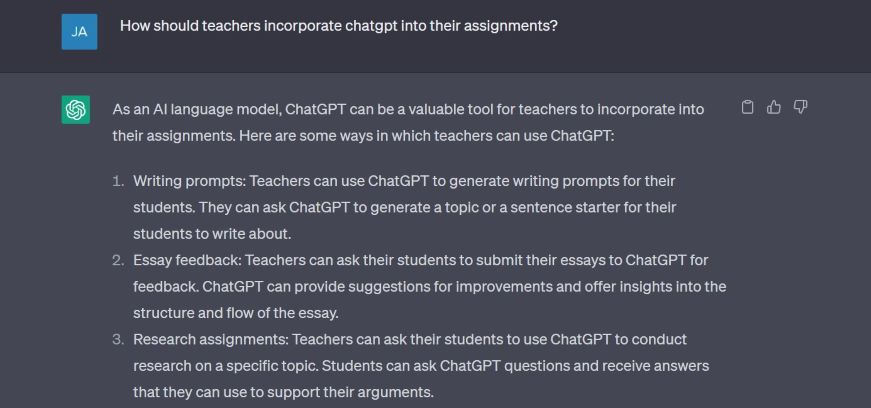 To give you an idea of how this could work for a research or discussion-related assignment, this image is a screen shot of a discussion between myself and ChatGPT.
As you can see, the ChatGPT AI system provides ideas based on the specificity of my queries. The more specific you are, the better responses are generated by the software. The AI-generated results might also provide you with new ideas to think about, enhancing the depth and breadth of your creativity and research. This is how it works with the graphic image AI software as well – specificity can bring awesome results!
As with all technological advances, there are potential concerns regarding AI, such as privacy issues, equity considerations, and resource allocations. While these concerns should be taken seriously, this article focuses primarily on the positive applications of AI in education.
Personally, I see ChatGPT as a type of Google search engine on steroids. It is powerful, but only as powerful as my own discerning capabilities. A search engine provides resources that are not created equal; similarly, I need to review the AI output and then decide on my own how I will use the results.
What other ideas or plans for the use of AI have you applied or are exploring at your higher education institution? Please share your thoughts with our TOPkit community on LinkedIn!
References
Guan, C., Mou, J., & Jiang, Z. (2020). Artificial intelligence innovation in education: A twenty-year data-driven historical analysis. International Journal of Innovation Studies, 4(4), 134-147.
EDUCAUSE Learning Initiative. (2017). Seven things you should know about artificial intelligence in teaching and learning. EDUCAUSE. Retrieved April 20, 2023, from https://library.educause.edu/-/media/files/library/2017/4/eli7143.pdf.
McMurtrie, B. (2023). What you can learn from students about CHATGPT. The Chronicle of Higher Education.
Rose, R. (2023). ChatGPT in Higher Education: Artificial Intelligence and Higher Education. University of North Florida Digital Pressbooks.
University Center for Teaching and Learning. (nd). ChatGPT resources for faculty. University of Pittsburgh. Retrieved April 24, 2023, from https://teaching.pitt.edu/resources/chatgpt-resources-for-faculty/