Author and Editor: Dr. Denise Lowe
Dear ADDIE,
The faculty members at my institution are facing a unique challenge, especially since the extensive use of Zoom for class meetings during the COVID-19 pandemic. Many of our faculty have come under attack on social media for the way they teach, the way their courses are designed, the way they dress, the way they style their hair, etc. Apparently, nothing is off limits for those that post these negative comments! What can instructional designers and administrators do to help support faculty when they are under such stress?
Signed,
Cyber Stressing
Dear Stressing,
Faculty have varied challenges in teaching a diverse student population but facing social media attacks should not be one of them. Unfortunately, this is occurring frequently in the higher education landscape. What you are describing is known as "cyberbullying." Cyberbullying is defined by Willard (2004, as cited in Li, 2008) as "sending or posting harmful or cruel text or images using the Internet or other digital communication devices." These can include tactics such as flaming, harassment, cyberstalking, denigration, masquerade, outing and trickery, and exclusion.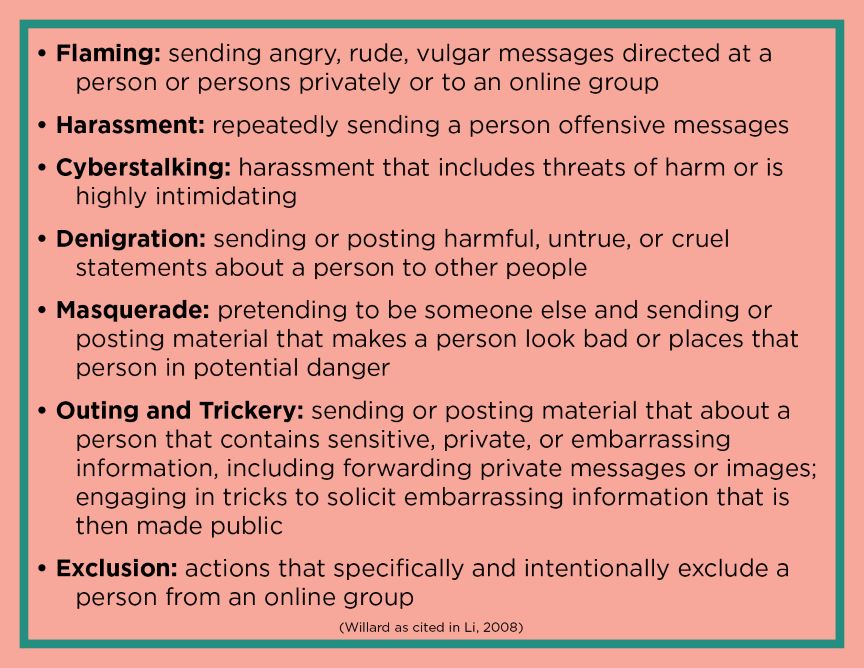 According to Cain, Linos, and Chretien (2019), there have been "coordinated public attacks directed at higher education faculty," usually politically or socially motivated from students who disagree with statements made by faculty members concerning sensitive or controversial subjects. When opinions, attitudes, or attempts to engage is civil discourse goes viral, the goal is to destroy reputations or careers – not to further scholarly discourse – which further undermines the development of critical thinking and the ability to confront challenging issues. Unfortunately, these negative effects can have repercussions for both the faculty members and their institution.
For those of us in faculty support roles, it is important to understand the emotional distress and/or abuse the faculty member may be experiencing. How can one focus on well-designed courses, professional development, and scholarly activities when facing such aggression? The relational support instructional designers and administrators can provide is like self-care but may be viewed as "other care." Faculty members also have a role to play here. There are purposeful actions each role can take to mitigate the physical, mental, and financial stress during this type of challenge, as indicated in the table below.
Cyberbullying is not an event that anyone – students or faculty – should have to understand or face, but it is a fact of life in today's world. The steady increase of technology continues to make such communication increasingly easy because it offers anonymity, instant gratification, and often biased rhetoric. While instructional designers, administrators, and faculty peers cannot replace licensed mental health professionals when needed, we can provide some structure and support for faculty under fire. Policies, expectations, syllabi, and engaging critical thought content to capitalize on student involvement are the foundation of effective course design to help mitigate the onset and potential effects of cyberbullying.
Recommendations for Mitigating Cyberbullying for Faculty and Support Roles
Who
Recommendations
Administrators
Develop and disseminate clear social media guidelines that outline free speech and academic freedom components.

Provide formal training for faculty on social media conduct, communication, and online scholarly discourse.

Form a social media crisis team that can (1) provide an a priori crisis plan and (2) intervene rapidly in cyberbullying cases to protect the faculty member and the university.
Instructional Designers
Using the COI framework, consider teaching presence elements in course design to create a positive learning environment by establishing policies, procedures, and processes; and reviewing instructor response approaches in course syllabi and expectations (Cox and Raditch, 2022).

Use a "critical instructional design" approach (Morris, 2017) to assist faculty to prioritize collaboration, participation, social justice, learner agency, emergence, narrative, and nurturing relationships between faculty/students and students/students to help give students a voice and minimize conflict.

Incorporate instructional support on cyberbullying in faculty development programs and training, especially for online teaching.

Be flexible in work or training programs deadlines when faculty members are facing cyberbullying challenges.

Offer relational support and mitigation design ideas through the building of the instructional designer/faculty relationship.

Offer cyberbullying resources such as the Cyberbullying Research Center, designed for educators at all levels.
Faculty
Use principles of civil discourse to reduce the chances of evoking rage and inviting a cyberattack.

Recognize that one does not have to participate in social media discourse to become a target of cyberbullying as cellphone videos, forwarded emails, and online links to manuscripts are easily shared online by the attacking party.

If one becomes a cyberbullying target, inform administration immediately, refrain from further social media communications with the attacker(s), and seek legal advice.

Provide support in private and/or public to peers undergoing a cyberbullying attack.
Adapted from Cain, J., Linos, E., and Chretien, K. (2019). Cyberbullying in academic medicine: A framework for managing social media attacks. Academic Medicine, 94(5), 626-629. DOI: 10.1097/ACM.0000000000002649
What other ideas do you have that could improve the Ask ADDIE approach to inviting questions or article ideas? Please share your thoughts with our TOPkit community on LinkedIn!
References
Cain, J., Linos, E., and Chretien, K. (2019). Cyberbullying in academic medicine: A framework for managing social media attacks. Academic Medicine, 94(5), 626-629. DOI: 10.1097/ACM.0000000000002649
Cox, T. and Raditch, J. (2022). Teaching Online and Cyberbullying: Exploring Cyberbullying Policies. Journal of Effective Teaching in Higher Education, 5(1), 71-89. DOI: https://doi.org/10.36021/jethe.v5i1.152
Del Ray, R., Ortga-Ruiz, R. and Casas, J. (2019). Asegu`rate: An intervention program against cyberbullying based on teachers' commitment and on design of its instructional materials. International Journal of Environmental Research and Public Health, 16, 434. DOI: 10.3390/ijerph16030434
Li, Q. (2008). Cyberbullying in schools: An examination of preservice teachers' perception. Canadian Journal of Learning and Technology (CJLT), 34(2). DOI: https://doi.org/10.21432/T2DK5G
Morris, S. M. (2017, October 27). A call for critical instructional design. Sean Michael Morris. https://www.seanmichaelmorris.com/a-call-for-critical-instructional-design/