Author(s): Karen Tinsley-Kim, Dr. Shelly Wyatt
Editor: Dr. Shelly Wyatt
Narrated PowerPoints – how my faculty love them! ADDIE, I have an issue that I suspect is one that is facing instructional designers and faculty developers all across the country. The faculty at my Large Public University believe that Narrated PowerPoints are the best way to bridge the gap between challenging content and the online learning environment. Faculty like creating these Narrated PowerPoints because, in addition to helping students, they appreciate the ease of creating these files and the fact that they can be repeatedly used in their courses and even can be used in multiple classes (depending on the content). But there are so many issues with faculty relying on Narrated PowerPoints as their main content delivery method, especially when these files are not captioned. So, my question is this: what can I do to help faculty make their Narrated PowerPoints more engaging and more accessible to their students?
Signed,
Fill 'Er Up
Dear Fill 'Er Up,
This is a great time to be addressing this question. Summer is a popular time to develop online courses as well as an opportunity to prepare for the fall. Narrated PowerPoints (NPPTs) are indeed popular because many faculty are familiar with the technology and it does allow faculty to add an extra layer of explanation and personalization (voice). However, there are problems and limitations associated with NPPTs; some issues are linked to the instructional use of PPTs (and how best to use it in an online environment) and other issues are linked to the addition of voice and the video format. For example, some institutions are no longer supporting Flash/SWF files in their online courses and faculty members may encounter roadblocks when trying to upload their files to YouTube or HTML5 environments.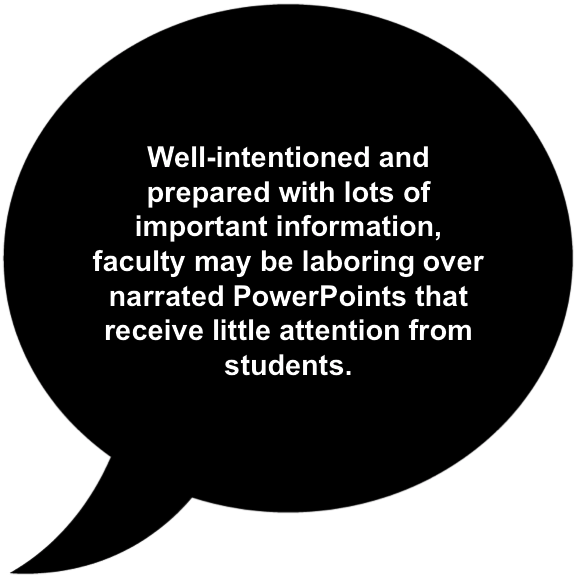 Narrated PowerPoints have been around for a long time, and therefore it may be useful to reconsider what content is still needed or required in a course. When the ability to easily narrate PPTs became available, many instructors were excited to try this technology as they could record important content that could be reused over several semesters. Although a "one and done" mentality may not have been their intent, some faculty members have built mini-libraries of lengthy NPPTs that they may not have revised for years. While the content itself likely hasn't changed much, students have.
Today, most students appreciate the ability to watch or engage with digital content at their convenience. However, most students have little patience for videos that are more than a few minutes in length and do not appear to be current (as in recorded this year). In an online course, some students may recognize NPPTs and either skim them as quickly as possible (if they can access it on their computers) or skip them altogether because they anticipate it will be "long and boring." Instructors' original goal of using NPPTs—to engage their students and enhance learning—is no longer well-served by relying on long, infrequently updated NPPTs that are not clearly linked to an instructional goal. However, updating how faculty create and use NPPTs represents an opportunity to adopt new ways of delivering digital content that support student learning. Guidelines for creating engaging NPPTs include:
Identify and emphasize the instructional goal of the NPPT; Consider other options that might be a better fit for your instructional goal (ex. infographic)
Keep NPPTs under 5 minutes (2 or 3 minutes is optimal)
Update NPPTs often and include up-to-date info (news items, department events, new images)
Include relevant images and limit excessive text
Conclude NPPT with a clear application of the learning objective (how this NPPT will help the viewer be successful in the course)
Make sure the NPPT is formatted properly (avoids Flash/SWF format) and is accessible.
A significant technical challenge associated with NPPTs is they are likely housed in Flash or SWF file environments and, while this has been popular, these file types are not accessible for students using mobile devices. For students with deaf/hard of hearing needs, these SWF files cannot be captioned. In addition, web browsers are scheduled to "sunset" or discontinue support for SWF files by 2020. Some higher educational institutions are already preparing for this sunset event by promoting alternatives to their faculty. These options include using HTML5; videos created in HTML5 are accessible via digital devices and can be properly captioned. Screencasting software, such as Camtasia, can record NPPTs that can be uploaded to YouTube, Vimeo, or embedded in an LMS or course website. Other online options include PlayPosit and EdPuzzle that allow instructors to add pauses to a video or video clip (self-made or 3rd party) as well as questions, quizzes, short answers, and notetaking options; some options can be tracked to determine the level of student engagement, which Narrated PowerPoints have never been able to do at such a granular level.
Faculty may perceive that NPPTs are more helpful to their students than they really are; well-intentioned and prepared with lots of important information, faculty may be laboring over NPPTs that receive little attention from students. One way to update faculty on the impact of different resources in their online courses is to share surveys related to students perceptions of instruction (TOPkit website: Sources of Data on Your Campus). Although it can be hard to hear, understanding what is or is not working for students is some of the most valuable feedback an instructor can have to guide future development of a course.
Narrated PowerPoints are ubiquitous in online and mixed-mode courses across the country.  What are you doing to encourage faculty to revise or update their current NPPTs and encourage them to consider other instructional options that might be a better fit with specific instructional goals (e.g., online games/activities, discussions, collaborative projects)?  Please share your thoughts with our TOPkit community on LinkedIn!