Author(s): Dr. Rohan Jowallah
Editor: Dr. Denise Lowe
Dear ADDIE,
I am new to the instructional design profession. I got this job–which I love–because I taught online, used flipped classroom strategies, and redesigned my course several times—not because I have any training or education in this field. I also did not have the support I needed with my first supervisor (who has since left). I'm looking to re-image myself because my faculty see me and automatically think "Oh you just want me to teach online!" OR "You demanded I take a survey. Who are you to tell ME what to do?"
What do you suggest? I really want to help my faculty move toward the 21st Century in higher education.
Signed,
Reformation in Progress
Dear Reformation,
Thanks for your question! First of all, I hope you are keeping yourself safe. Even in the best of times, the scenario you present is challenging – yet quite commonly encountered. During the additional challenges posed by the COVID-19 situation, it can be even more difficult to engage faculty in quality online instruction. If ever there was a time to consider yourself as a central figure in your institution, it is now. Instructional designers have been called upon to assist and play a vital role in supporting faculty in teaching remotely. There are a few strategies that can be used to navigate various organizational cultures.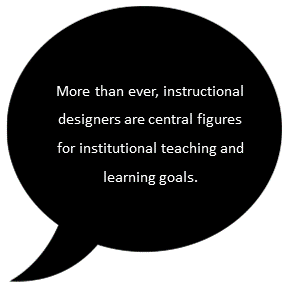 #1 Ensure that you locate a faculty member who is an advocate for online teaching and learning. Once you do so, make every effort to build a healthy relationship. This will create a way for you to provide needed instructional guidance. Once you find this online champion, you will have access to others who may be interested. Remember, any cultural shift will take time.
#2 I would also recommend that you use the online Faculty Development Decision Guide (FDDG) to assess your organizational needs. Doing so will also provide you with a pathway for developing initiatives for supporting faculty.
#3 Since you have also taught online and have developed various courses, it will be necessary to model/show faculty members the endless possibilities of online teaching and learning. The most significant way to show your skills will be to demonstrate them in practice.
#4 Finally, I would also recommend that you start a series of communication with your faculty members. Your conversation could focus on current practices and research in online teaching and learning, tools, and technologies used in online learning and teaching, and your research. Importantly, I recommend that you consider hosting some informal sessions. These sessions could take the form of one-to-one meetings or group meetings. Your ultimate aim is to build rapport with faculty. Doing so will require time, understanding, support, engagement, and effective communication.
I'm sure there are many more tips that others in the community have found useful. What strategies do you use for effectively engaging faculty in the online course design process – especially during such challenging times as we are currently facing? Please share your thoughts with our TOPkit community on LinkedIn!